Heather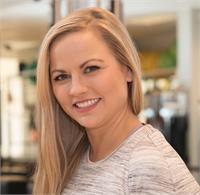 Heather's first love has always been athletics. She was a scholarship softball player at University of Memphis. She was also a former Aquatics director for YMCA of Jackson, TN where she taught Lifeguard Training, swimming lessons and water aerobics. Heather is new to Texas and Pilates too. She chose Pilates to gain strength and to become lean, not bulky. Heather has been attending our studio since May 2017 and with this new love she has decided to become an instructor. She has passion for the details and wants to ensure you get the most benefit out of every training session. Heather is a trained STOTT PILATES® Intensive and Advanced Matwork Instructor. She will continue her training in January 2018 with the STOTT PILATES® Reformer Training.
Heather instructs the following:
This Pilates Mat workout challenges and guides you through strength building and muscle toning exercises. Ultimately leading to a strong, sculpted and streamlined body, this routine uses the Exercise Mat, Arc Barrel, Fitness Circle®, Toning Balls™, Flex-Band® and Maple Pole. Each piece of equipment is designed to build core stability, improve balance and enhance neuromuscular coordination.




This class is great for athletes and clients who have been taking Pilates extensively and want a challenge. We move at a fast pace for endurance.




This class will flow and with pilates challenges. We will challenge the abdominals, while working legs, arms and back muscles. We will complete the workout with a standing series on the Reformer (great for balance and toning legs).




For Intermediate clients, working on increasing flexibility and core strength. Each week the class will be challenged on a different piece of equipment (Chair, Reformer or Spring Wall).




Pilates equipment class that circulates between the reformer and the spring wall. The spring wall offers unilateral work to strengthen both sides of the body evenly. We strengthen the sides and back of the legs as well as the arms! The reformer is great for creating a strong core. We also do extension and balance work. This class is great for clients who want to incorporate more of the equipment into their work out.




The Ball allows a full range of motion and optimum body positions for any exercises (that would be uncomfortable on the floor or weight bench). We will be using the different size balls, weights, and bands for a tough, fun workout!