Kimberly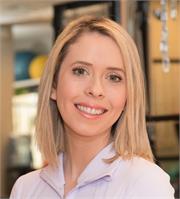 Kimberly Anton started swimming competitively at age 8. By the age of 12, she started to plateau and her mother introduced her to Pilates. Her times began improving again! The night before every swim meet Kimberly and her mother would do mat pilates workouts together. She was offered a few swim scholarships, but opted to get her Associates in Math and attend Cosmetology School. After having a baby, she got certified by PFIT in Personal Training. She is fully certified STOTT PILATES® Instructor with MERRITHEW. She loved doing Pilates during and after her pregnancy at Bay Area Pilates TX. She saw a difference in her body after doing pilates full time. Kimberly has worked with many of our clients and they have seen a difference in their bodies and health.
Kimberly instructs the following:
For a more experienced Pilates client, a physically and mentally more challenging workout. We use the different pieces of equipment, (i.e. Chair, Reformer, Cadillac and Barrels). You must have teacher's approval to enter).
The advanced pilates work is fun and rigorous!




A total-body cardio and core program featuring innovative, yet simple JumpBoard/CardioTramp combinations on the Reformer that boost your metabolism and increase strength and flexibility.




Pilates equipment class that circulates between the reformer and the spring wall. The spring wall offers unilateral work to strengthen both sides of the body evenly. We strengthen the sides and back of the legs as well as the arms! The reformer is great for creating a strong core. We also do extension and balance work. This class is great for clients who want to incorporate more of the equipment into their work out.




This will be a special class where we will conduct a Jumboard Interval Class utilizing the Spring Wall and Reformer Jumboards. There is a suggested donation of $25.00. All proceeds will go directly to BCRF.




For Intermediate clients, working on increasing flexibility and core strength.




This class is great for athletes and clients who have been taking Pilates extensively and want to work on endurance. We move at a fast pace and incorporate all pieces of equipment: Chair, Reformer, Tower, and Spring Wall.