Cristie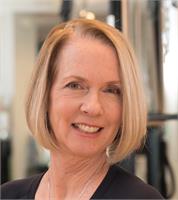 Cristie discovered her love of teaching when she taught her first aerobics class in New York City in 1979. After getting married to her husband David, and starting a family, she continued teaching a variety of fitness classes. In 1999, she took a Pilates workshop and felt an instant connection and love for the practice. "It works every muscle in your body and leaves you feeling refreshed and invigorated." Cristie Anton became a certified instructor with STOTT PILATES® in 2002. She is certified in Intensive and Advanced Mat Level 2, Intensive Reformer Level 1, Advanced Reformer,and Cadillac, Chair and Barrels. Cristie has just completed the Injuries and Special Populations Course. She is working toward the specialty tracks of Athletic Conditioning and Post-Rehabilitation Conditioning. Her continuing education with STOTT ® PILATES courses and workshops keeps her knowledgeable and informed. She is also certified with American and Fitness Association of America (AFAA) and is CPR certified through the American Heart Association.
Cristie instructs the following:
This Pilates Mat workout challenges and guides you through strength building and muscle toning exercises. Ultimately leading to a strong, sculpted and streamlined body, this routine uses the Exercise Mat, Arc Barrel, Fitness Circle®, Toning Balls™, Flex-Band® and Maple Pole. Each piece of equipment is designed to build core stability, improve balance and enhance neuromuscular coordination.




For Intermediate clients, working on increasing flexibility and core strength.




Using different Pilates equipment every week (Reformer, Chair or Spring Wall), this is a faster paced class to ensure a great workout.




No cheating here! The Spring Wall Equipment allows for full range of motion while at the same time providing progressive resistance and isolation of specific muscle groups.

The emphasis will be on both stretching and toning, with segments dedicated to strengthening the abdominals and rotator cuff work with flex bands.




This workout combines the love of springs, barre and weight transfer. Set to music, this class is sure to get your heart pumping while improving balance, strength and flexibility.




The Pilates portion of the camp will introduce your child to simple conditioning movements using kid-friendly exercises. We will use an assortment of balls and bands. We will strengthen our core, improve coordination and flexibility.

At Kid Creations, your child will have a choice of 2 different projects to take on. Snacks will be provided.

Camp begins at 1:00 p.m. and ends at 4:00 p.m. All pick up and drop off will be at Kid Creations.

For more info call Cristie: (281) 797-6442




Bay Area Pilates TX will introduce your teen/tween the basics of pilates with exercises using a variety of small equipment ( balls of all sizes, barrels etc.).

We will use the Spring Wall and work on balance and jumping.

They will then go to "Painting with a Twist" to receive instruction and paint a picture of a goldfish.

Drop off at Bay Area Pilates TX and pick up at Painting with a Twist.